Miami point guard Shane Larkin said he plans to sleep with his piece of the ACC Tournament net for at least two weeks.
The Hurricanes' frenetic, fantastic, down-to-the-final-minutes championship win over North Carolina on Sunday was worth savoring — in more ways than one.
Not only did the 87-77 victory secure UM's first ACC tournament title, another accomplishment on an ever-growing list this season, it quieted any doubts that this team should be one to be reckoned with in the NCAA tournament.
"A lot of people were saying we peaked earlier in the year, when we won 14 in a row, and then we lost three of our last five," said Larkin, named the tournament MVP after his career-high 28-point performance. "A lot of people said … we weren't going to have any chance in the NCAA tournament. But we just stayed together as a group; we stayed together and believed in ourselves and got three wins in a row against three very good teams."
Indeed, this didn't look like a team that was petering out. Just the opposite, in fact.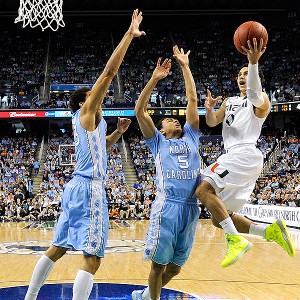 Shane Larkin scored 28 points and had seven assists in Miami's win over North Carolina.
Pushed by a much-improved Tar Heels squad that also had plenty of doubters not too long ago, both teams put together a first half that was "as high a level of basketball as I've seen all year long,'' Canes coach Jim Larranaga said. They combined for 15 3-pointers, only eight turnovers, 13 lead changes and six ties. And that was just in the first 20 minutes.
In one blink-and-you'll-miss-it flurry, UNC sophomore P.J. Hairston (28 points) buried three 3-pointers in a row — interlaced with 3s from Larkin and teammate Trey McKinney Jones(career-high 20 points). It was a stretch of entertaining one-upsmanship, and although Miami led 44-41 at halftime, you knew — you hoped — there would be more.
And there was.
"It was anyone's ballgame with five minutes to go," said Tar Heels coach Roy Williams, emotional about the loss and about how far his guard-led team has come since it lost to the Hurricanes by 26 points in early February.
Actually, UNC led Sunday 67-64 with 7:44 to go, until Hurricanes big man Julian Gamble scored five points in an 8-0 run. The Tar Heels, as they had all game, tried to shoot back, and point guard Marcus Paige cut it to a 74-71 with 3:37 to go.
But then Larkin drove by Strickland for a layup, and McKinney Jones (career-high 20 points) hit yet another 3 to make it 79-71 with 1:36 left.
It was the Hurricanes' largest lead to that point in the game, and finally the cushion was enough.
"Congratulations to Miami, it will continue to be a phenomenal year for them," said Williams, whose team is now 8-3 since it last lost to Miami. "They won the regular season, and then validated it by winning a conference tournament as well and it's just a great, great year. … They're really a big-time basketball team."
As the horn sounded and a multi-colored blizzard of confetti poured out of the rafters, Miami guardDurand Scott leapt into Gamble's arms, then embraced big man Reggie Johnson. It was an emotional moment for three seniors who had seen Tobacco Road teams dominate the ACC — until Florida State won the tournament last season.
And until now.
"My first meeting at George Mason in 1997, I asked our players, 'Who are the best programs in the country, and who should be our role model?' and they mentioned Duke and Carolina," said Larranaga, who took the Patriots to the Final Four in 2006. "And when I got to Miami, I asked, 'Who are the best teams and programs in the league?' and they said Duke and North Carolina. So what we've tried to do is use them as a shining example of what can be done."
And Saturday's net-cutting was another step.
McKinney Jones said he would likely give his sliver of the twine to his mom. Larranaga said his would be on display in his office. Scott said he would add his cutting to an ever-growing collection of memorabilia.
Meanwhile, expect Larkin to leave some room under his pillow for another piece of net. That's the goal entering the NCAA tournament.
"This was a big weekend for us,'' Larkin said. "This gives us a lot of momentum going forward."